Why have you been referred to a specialist?
Your dentist has referred you to our endodontics practice because you are experiencing symptoms which he/she feels involves the pulp of a tooth. An endodontist has taken advanced training in the treatment of pulpal disease, and continues to participate in postgraduate studies in order to stay abreast of the latest techniques and procedures. We use state of the art equipment such as microscopes and ultrasonic instruments to provide you with the best treatment possible.
What is Endodontic Therapy?
Endodontic therapy (root canal treatment) is a procedure performed in order to preserve a tooth in which the pulp of the tooth, often referred to as the "nerve", has been irreversibly damaged.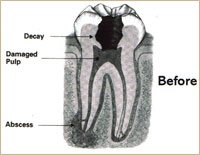 Treatment involves removing the damaged pulp tissue, cleaning our the root canals in which the pulp resides, and filling the canals with guttapercha, an inert filling material.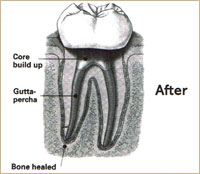 The only alternative to endodontic therapy is to have the tooth in question removed. We applaud the decision made by you and your general dentist to consider endodontic therapy.